There are no up-coming events
There are no up-coming events
There are no up-coming events
Home
Our Relationship with Music
Please join us for an afternoon conversation about music and life, referencing masonic themes. Brother Sebastian Fuentes from Lodge of the Royal Secret, who holds a master's degree from Berklee College of Music, will be presenting on the Alpha Lodge monthly theme, "Our Relationship with Music." This event is hosted by Alpha Lodge, Meridian Lodge, and Middlesex Lodge, and is open to all brothers in good standing, their family and friends.
The event will be Saturday, March 25, 2023, at 1:00 pm. Mr. Fuente's presentation will commence promptly at 1:30 pm and will last one hour. We will then have a fifteen-minute intermission and resume with a facilitated question and answer period. We encourage discussion of the topics raised by brother Fuentes. The Q & A session will last up to an hour.
After the Q & A we will have time to play music with Sebastian…bring your instruments! If you would like to join the jam…this is your chance!
Freemasons are renowned for their charitable acts. As a society, we are taught that true charity is a selfless act, but is it? As Freemasons, we are seekers of Truth. What does the science say and, equally important, what does it mean? Continuing with our annual theme, "Geometry: The Art and Science of Relationships," we will be focusing on "Our Relationship with Charity." Our guest speaker is a Harvard Professor and TEDx Cambridge presenter who has studied the science of Charity and our motivations behind performing charitable acts.
Please join the members of Alpha Lodge for a dinner presentation and discussion. Dinner is open to all Freemasons and vouched friends of the fraternity. Registration is required.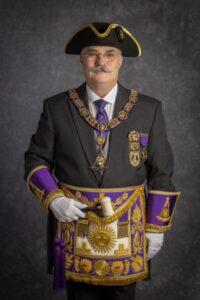 Members throughout the Masonic jurisdiction of Massachusetts attended the Installation of Officers and the Feast of St. John at the Grand Lodge on December 27. Alpha Lodge members had the honor of participating in the installation for their friend and Brother, George Hamilton. In addition, RW. Alfredo Canhoto was elected Junior Grand Warden, Wor. George Hayeck was appointed Junior Grand Deacon, and RW. Mike Scribner was appointed DDGM of the 15th North Masonic Jurisdiction. The district, the Grand Lodge, and the Grand Jurisdiction are in goo hands.
(To see the official release and the origin of this image, please visit the Grand Lodge Website: https://massfreemasonry.org/news/m-w-george-f-hamilton-installed-91st-grand-master-of-masons-of-massachusetts/)
The Master of Alpha Lodge joined the Grand Master of Masons in Massachusetts and his suite of officers for a memorial remembering and honoring military veterans. The event took place Sunday, September 25, 2022, at 10:00 AM aboard the U.S.S. Massachusetts at 5 Water Street, Fall River, Massachusetts.
The ceremony included a beautiful and heartfelt tribute to R.W. Harold Nye, a decorated sailor and verteran of the USS Massachusetts.
The Spring class is on Saturday, April 15, 2023, beginning at 6:30 a.m. Degrees will be shown from each of the four bodies, including the 4° and 32°. As with recent classes, we ask all current members to register for free using the link below. Blue Lodge Freemasons who are interested in joining should speak to the Master of Alpha Lodge as soon as possible.
Alpha Lodge is taking meal-plan subscriptions through PayPal. The meal plan offers a discounted rate for members and demonstrates a commitment to attending the stated communication for the year. In addition, meal plan subscribers will receive a small gift in token of our appreciation for their commitment.
The meal at Alpha Lodge is an important part of our nightly ceremony. Typically, a presentation is given or a discussion is encourage surrounding Masonic topics but is open to guests and friends of Alpha Lodge as well as any visiting member of the fraternity.
The traveling guide has made it to Alpha Lodge. It was acquired by Alpha Lodge in the Framingham Masonic Apartments on May 17, 2022.
Here you can see the District Deputy Grandmaster presenting the Award to RW. Douglas B. Freeman, Master of Alpha Lodge, assisted by RW. Alfred Canhoto, with RW. Paul Gaudet in the background.